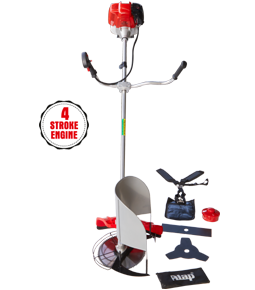 ---
Ideal for cutting to paddy, wheat, sugarcane, sunflower, and to cut weeds, grass plantations , etc.
4 Stroke Single Cylinder Engine , With Safety Guard
ENGINE TYPE : 4 STROKE AIR COOLED POWERFUL ENGINE, FUEL EFFICIENT ENGINE
NO.OF CYLINDER : SINGLE CYLINDER,
DISPLACEMENT : 31 C.C.
FUEL TANK CAPACITY : 700 ML
FUEL : PETROL
FUEL CONSUMPTION : 800 ML/Hrs
HIGH SPEED : 9000 RPM
CUTTING BLADE : 80T, 2T, 3T, GRASS CUTTER & SAFETY GUARD
STARTING TYPE : STARTER RECOILE SYSTEM
ENGINE OIL : 100 ML
Delivers Highest power in its engine class Ideal for heavy duty work due to high torque even at low rev.
LESS LABOUR,LESS TIME,MAXIMUM SAVING
ALL ORIGINAL PARTS AVAILABLE IN MARKET
SAFETY GUARD PROVIDED
EASY FOR CUTTING & CROP COLLECTION
80 TEETH S.S. MATERIAL BLADE FOR LONG USE
LIGHT WEIGHT FOR EASY OPERACTION